Harsh winter weather is something that any Michigander is very familiar with. We simply bundle up with warm clothes when outside, a cozy blanket when inside and enjoy the beauty that it brings.
But, this same harsh winter weather makes driving particularly difficult and sometimes dangerous as well. In fact, Michigan ranks as the most dangerous state for driving in the winter. Every year, there are roughly 50 deaths attributed to winter driving, according to analysis done by Moneygeek.com.
The site took data from the National Highway Traffic Safety Administration from between 20015 and 2017 to draw its conclusions.
What's worse, nearly half of all driving accidents that occur in the winter months of December, January and February happen because of ice, slush and/or snow. State traffic data showed nearly 45% of all accidents in 2018 happen during those months. In total, there were 42,439 collisions statewide in those months for 2018-2019, 65 of which involved a fatality.
Winter driving can be very dangerous in Michigan. If you've been involved in a winter car accident, there are some important steps you should take to keep yourself safe. Here's what you should do following a car accident in the winter.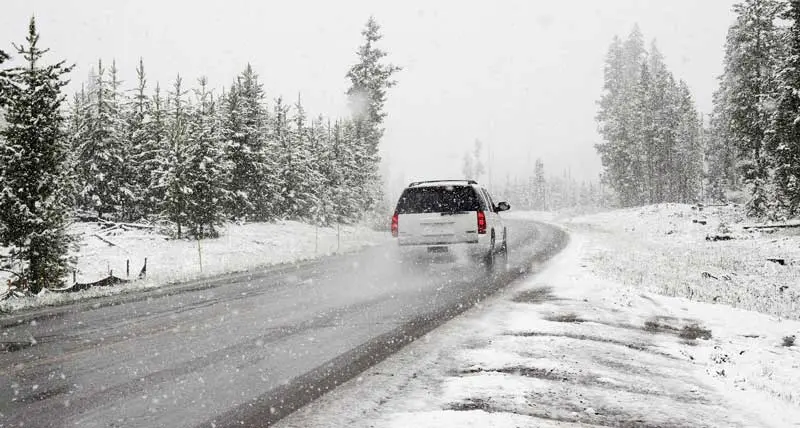 1. Get to a Safe Place
The first thing you need to do is make sure that everyone in your car is OK, and then get yourself to a safe place. This means driving your car to the side of the road, if possible. If not, make sure to get out of the car and off to the side of the road.
A minor fender-bender can easily turn into a major accident in winter weather. By getting your car out of the way of other vehicles on the road — or at least getting yourself out of the way — you'll be preventing that as best you can.
2. Call Police
Once you're safe, contact police immediately. Call 911 and tell them of the situation. Let them know if anyone has been injured, to your knowledge. Then, be as clear and precise as you can about where you and any other vehicles are. This will allow emergency help to arrive as quickly as possible.
In this step, you just want to make sure that you're letting police know where you are so they can help. Don't focus on telling the dispatcher what happened, who was at fault, etc. There will be time for that once police arrive.
3. Check on Other People and Stay Warm
Check on the other people who were involved in the crash, if there are any. If they need medical attention, make sure to tell the dispatcher when you call.
Once you hang up with 911, make sure that you remain in a safe place, off the road. Make sure that you stay visible to emergency workers. If you have flares, a flashlight or other bright-colored clothing, use it.
If you have a blanket, extra jacket or anything to keep you warm, use it. You may be waiting a while for emergency help if the driving conditions are poor. Don't stay in your car unless you can make sure you're are far off the roadway.
4. Take Photos
While you are waiting for emergency personnel to arrive, safely take photos of your vehicle. What you're looking to do is how evidence of the damage to your car. This includes any dents, dings, scratches, etc. If you can take photos of the roadway and surroundings — if it's safe — do that, too.
If you have suffered any injuries, take photos of those, too. All of this will be important evidence for you to keep when it's time to file an insurance claim. This could be vital to the case. You want to have this evidence as soon as possible after the crash, as it will be in its "purest form," so to speak.
5. Seek Medical Attention
If you have suffered any injuries at all, seek medical attention from someone at the scene. Don't deny medical attention even if you think your injuries are minor. Let a medical professional determine that you don't need to go to a doctor or hospital.
The time immediately following a crash can often be the most crucial in diagnosing and treating a more serious injury you may not be able to detect yourself.
6. Give Your Statement
Tell police who arrive at the scene your version of what happened. Be as detailed as possible. This includes what was happening right before the accident, and what happened to cause the accident.
The police officer should put your statement into the police report along with the other driver(s)' statement, as well as his analysis of the scene. Make sure to get the officer's name, the department he or she works for and how and when you can get a copy of his or her report.
7. Call Your Insurance Company
Once you are OK and safe at home, call your auto insurance company. You'll want to open an insurance claim for any damage your vehicle or your body has suffered during the accident.
You'll give your insurance company another statement of what happened. Then, you can provide them with any photographic evidence you have, as well as a copy of the police report, once you obtain it. Your insurance company will take it from there and let you know if they need more information from you.
Make Sure You Have a Trusted Auto Insurance Company
The most important thing to keep in mind if you've been involved in a winter car accident is to be as safe as possible. Make sure you get to safe place after the crash. Call 911 and seek emergency medical attention, even if you think you haven't suffered any major injury.
Once you've done that, call your insurance company to file a claim for any damage you and/or your vehicle has suffered.
No one wants to think about being in a winter car accident. One way to prepare yourself in case you are ever in one is to make sure you're working with a trusted and experience auto insurance provider.
Signature Insurance is that company in Michigan. We have years of experience helping drivers just like you in the state. We work with all of our clients personally to make sure they have the best coverage and the most experienced agents available when you need help.
Call us today for a quote and to find out more information on how we can protect you.
At Signature Insurance we want to help you understand your insurance coverage options so you make the best decision.
Contact us at (586) 274-9600 and we'll be happy to get quote for you from many of the top auto insurance companies or home insurance companies in Metro Detroit.