If you don't live on the coast or near a lake or river, you may not be worried about flooding damage at your home.
The fact is, though, that water damage from non-weather events accounts for roughly one-fifth of all property insurance losses. It's an unfortunate event that could happen to anyone, no matter where they live.
Floods in your home can come from a number of sources. It can come from leaks in plumbing and pipes. It can come from water buildup and overflow. It can come from a sewer clog or backup. Or, it can come from an appliance failure or leak.
Whatever the source, a flood inside your home can be extremely damaging and extremely dangerous. So, what should you do if your house gets flooded? Follow these essential steps.
1. Turn Off the Water
The first thing to do if your house gets flooded by a non-weather event is to turn off the water in your home. You should have shutoff valves located somewhere in your home. Locating them and turning them off is the essential first step in this process.
Even if you're not running any appliances or faucets in the house, water will still run throughout the pipes and continue to leak if it's not turned off at the main. So, the most important thing is to "stop the bleeding," as the saying goes.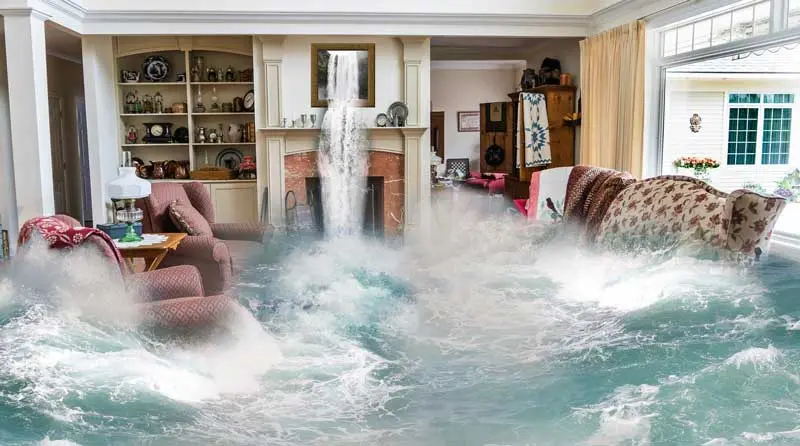 2. Turn Off the Electricity
Water and electricity don't mix well. If your home gets flooded, it's essential that you turn off the electricity in your home, too, to prevent a fire from starting.
One thing you don't want to do is walk through the flooded water to turn of your electric. If you'd have to wade through or walk through water to get to your fuse box, call an electrician to do this safely.
3. Get Out of the House
Once those things are under control, you want to evacuate your home and get to some place dry and safe. Gather everyone in your home and your pets and get out of the home.
You could go to your front or backyard, to a neighbor's house or to another family member's house. The important thing is getting out of the home that has suffered damage, as it's not safe.
4. Call Help
You've done everything you can to mitigate the damage inside your home, so now it's time to focus on other things. In any emergency, your health and safety are the most important things. If any of the people or pets inside your home need medical attention, immediately call 911.
If no one is injured and the damage is relegated to just your home, it's time to start the process of recovery. If you rent your home, call the landlord to inform them of what happened.
If you own your home, call your home insurance company to let them know what has happened. Once you report the event, find out from your insurer what the next steps are. Should you proceed with finding companies to start the cleanup and perform any repairs? Or does an adjuster need to visit the home first?
5. Document the Damage
As long as it's safe to do so, you want to document the damage your home has suffered. This will help your insurance company help you repair, recover and/or replace anything that has been damaged in the home. Simple pictures with your cellphone camera will suffice in this instance.
Again, make sure that it's safe to enter your home, and wear protective gear if you have to tread or wade through standing water to assess the damage. If it's not possible for you to do this, then you can document the damage once the water has been removed from your home and it's been deemed safe to enter.
6. Clean Up
Working with your insurance company, it's time to start the cleanup and recovery process in full. The first step is obviously to remove the water. Professional companies can help to pump the water out your house.
The second step is to investigate the cause of the flood. There may be an obvious culprit, such as a busted hot water heater. Or, the problem may be hidden. A plumber may be able to help you in this case. They can search the pipes in your home to see if there's any leaks. They could turn your water back on, slowly, to see where a leak could be coming from.
Once the problem has been identified, it's time to fix that problem. Replace the hot water heater if it busted, for example, or repair the broken pipe.
The fourth step in this process is prevent mold growth. Mold is one of the biggest problems after a flood occurs. Black mold and other toxic mold can form after water soaks a house, and it can be extremely damaging to your health.
As such, you may need a deep cleaning using a bleach-like solution. You may even need industrial fans to thoroughly dry whatever areas have been soaked in water. Again, a professional remediation company can help you with this.
7. Repair, Replace and Recover
Once the source of the problem is discovered and fixed, you can move onto repairing, replacing and recovering anything that has been damaged and/or lost in the flood. This could include replacing damaged flooring, walls and electrical outlets. It also includes any personal items such as furniture, electronics and clothes that were damaged beyond repair.
Having a full itemized list of everything that suffered damage is key for your insurance agent. This will help them help you in the best way possible.
Work with a Trusted Home Insurance Company
Experiencing a flood in your home can be a devastating thing to have to go through. It can be an arduous process in cleaning, repairing and restoring your home and possessions to their original form.
That's why it's so important to work with a trusted home insurance company like Signature Insurance. We have years of experience helping our customers work through difficult times such as when they're house gets flooded. We walk you through the process and make everything as easy as possible.
Call us today for a free quote and to find out more how we can keep you and your home protected.
At Signature Insurance we want to help you understand your insurance coverage options so you make the best decision.
Contact us at (586) 274-9600 and we'll be happy to get quote for you from many of the top auto insurance companies or home insurance companies in Metro Detroit.